After slaving like a mad woman for an entire week, I was ready for some rest.
HAHAHAHAHA! Yeah, right!
Instead Jerry and I loaded up the entire booth set-up at the crack of dawn Friday morning, then I had to go to my day job (sigh) and then zip out of there at 1:30AM and fight the biggest traffic jam ever, to try to make it to the LA Roadster Show before they shut down at 4PM. So I could test my projector idea, ya know

.
2:30PM - The deuce and I have now been on the road for an entire hour and only went TWO miles

. The 101 is a parking lot. The deuce is idling ad lib and I'm lucky it's not blowing a radiator. But, thanks to our top shelf wiring job last year, the deuce is running smooth and cool. Which is more than I can say about ME.

. Can't find my water spray bottle anywhere and I am BAKING. I'm starting to feel light headed... Heat stroke, just around the corner. Frustrated by my lack of progress I exit the freeway. A quick stop at a local gas station and I dig out my spray bottle and fill it up with cool water. Now I'm ready to brave the heat. This little trick (spraying myself with water when it's really really hot) has been keeping me alive during the hot summer season, for 4 years now. Cause it's HOT in the valley.

3:30PM - I pull into the Pomona fairground AT LONG LAST!

. Jerry has been here for a while now and got most of everything dialed in THANK GOD! I have very little time to set-up the sound system, trouble shoot and test the projector. It will take all 3 of our black canopy walls to get our booth dark enough to see any image at all. Just what I figured.
5PM - Jerry and I check into the hotel. I lay down for a second and fall asleep. I wake up past midnight. So much for Dinner.
4AM- Dring dring dring, the damn alarm clock pulls me out of my dream and I find myself getting ready, somehow

... Reminds me of our call times when we were filming. Ungodly.
6AM- We set up the booth sound system and projector, which I had taken with me, to prevent theft. I put the last finishing touches to the booth... Not bad, considering we put the whole thing together in a week. This is just the basics, I will perfect it as time goes and funds become available. But for now, this will do quite nicely, thank you.
TaRRRRRaaaa !! Here it is in all it's simple glory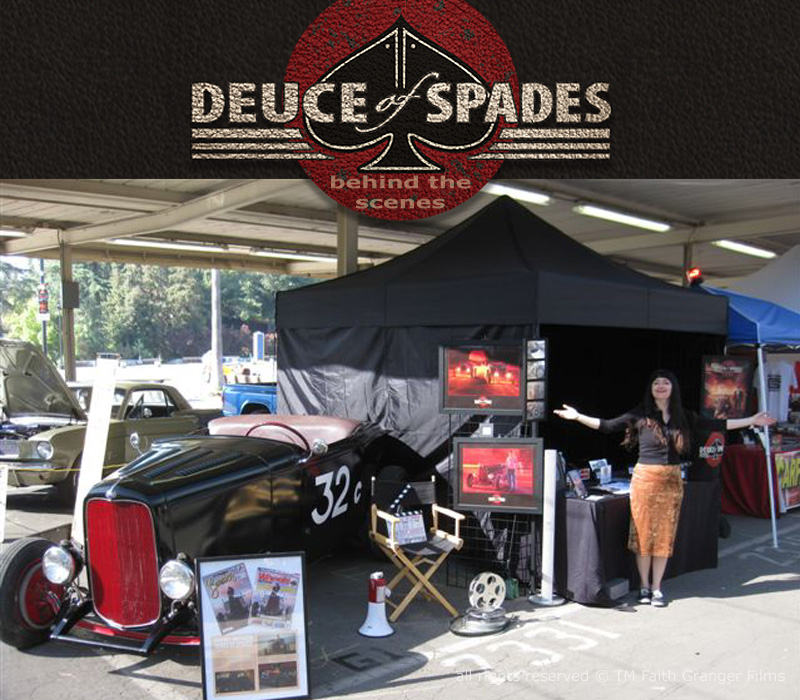 Notice my imfamour director's chair. This one's the real deal. I actually really did direct a film from that chair. Well, sorta. Since I never really had a chance to ever SIT in it LOL cause I was doing the job of 45684765043 people while on set. (sigh).
Next to the front tire of the deuce are my two magazine full covers: WHEEL (Sweden) and STREET GASSER (UK).
Also, next to the chair you can see my famous bullhorn. I use to terrorise my entire cast with it hehehehe.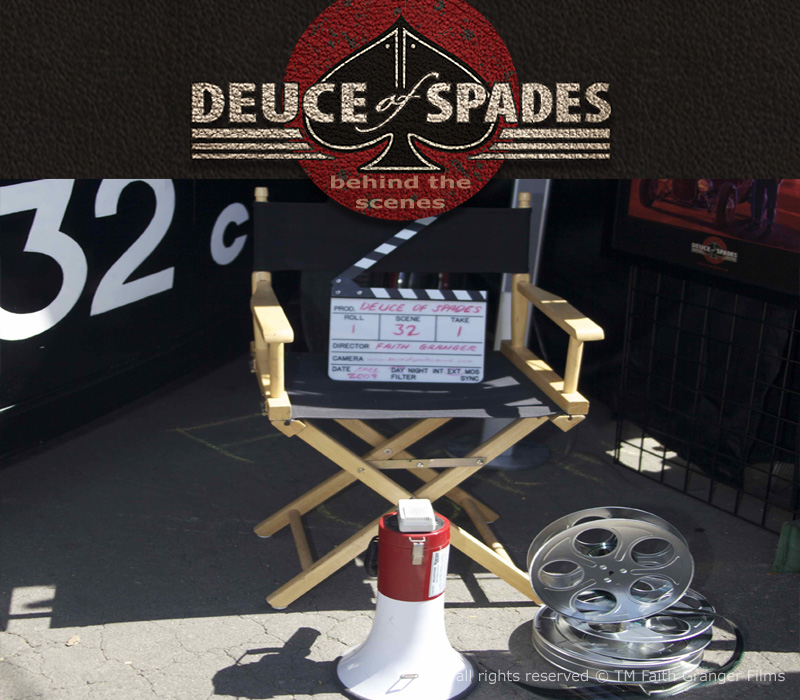 "QUIET ON THE SET DAMN IT!! I can't hear myself think!"
Oh and then of course, let's not forget the famous: "ACTION!"
It's now 7AM and the gates are about to open. Are you ready Jerry? Yop. He's READY

What appears to be a "little" screen behind Jerry, inside the booth, is actually 7 feet wide.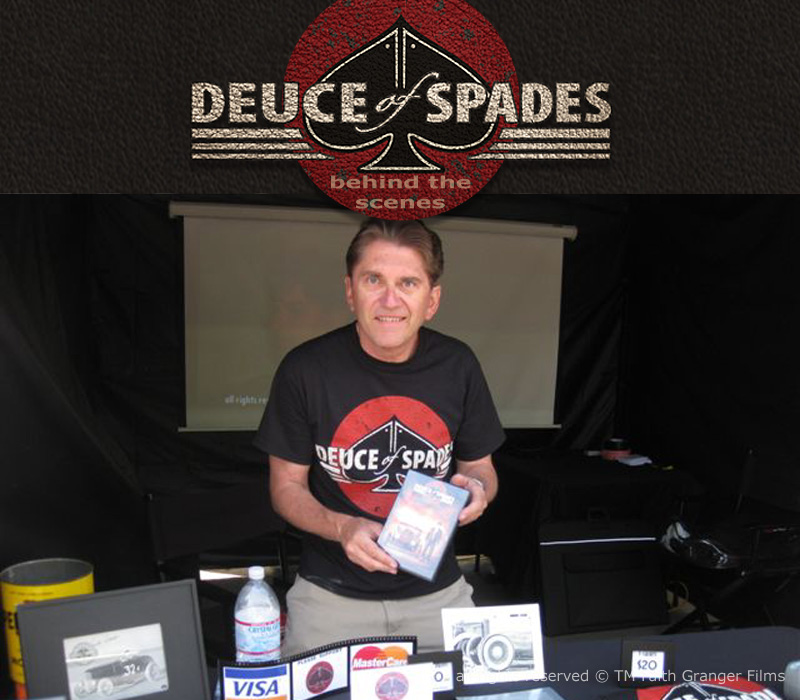 For the next two days jerry and I are overwhelmed with visitors. The show sure was a lot of fan! Fun, I meant fun LOL. We had a chance to meet some of our hard cores fans, and they came from all over the places, including (but not limited to LOL) : Australia, New Zealand, France, Belgium, Sweden and Finland too...
We also got to make many NEW fans

Below: Jerry is a little outnumbered and is crying out for mercy LOL
"Don't look at me for help" says the Deuce, "I'm the star, I don't do labor".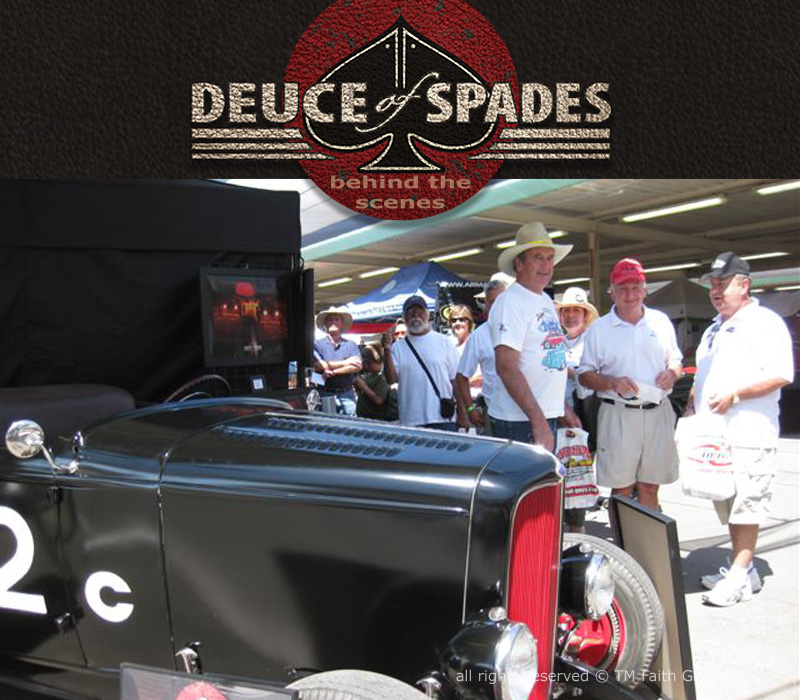 We were honored to have the visit of BLACKY who was glowing as he watched the teaser on the big screen. He was laughing and kept saying out loud: "YEAH! That's how it was back in my days!". Boy did he look happy! He had a smile from ear to ear.
A little later it was the turn of the founder and first ever president of the LA Roadsters to come by to check out the film. He too had a big smile on his face.

There were many others who came by, including quite a few prominent magazines, editors, journalists, photographers... Made a lot of great contacts that week-end.
All in all a bitchin' week-end well worth all the work. The booth, simple as it still is, got a lot of compliments and we sold quite a lot of merch and took a lot of DVDs pre-orders. People were asking to have their pics taken next to the deuce or with me, and when I offered one of our French fans to sit in the deuce to have his photo taken, he almost fainted

, he was so happy he kept asking: Are you sure? Can I? And was afraid to sit inside, for fear of damaging the car. I laughed and said: "It's not made out of sugar, go for it".
I think the deuce loved the attention. And deserved every bit of it.
Below: This dashing young man is actually one of my actors, and plays one of Johnny's many buddies / admirors. Coincidentally he is also a hotrodder.