Well guys, it's official. You are looking at the brand new Poster Child for SONY VEGAS

.
Word about my film went all the way up the ladder to the powers to be at Sony and they were impressed with DEUCE OF SPADES and with the way I had used their software VEGAS Pro and ACID Pro to edit and score the film.
They considered me to be a success story.
AND SO THEY SPONSORED ME!!!!!!!!!!!!!!!!!!!!!!!!!!



This is truly a great honor. Especially for self taught, first time filmmaker like me, who never went to filmschool and is not a "trained" editor (but can dance my way around many of them anyway hehehehe)... I graduated from the battlefield, the school of hard knocks. Having a sponsorship from such a big corporation is truly prestigious, so I am very happy.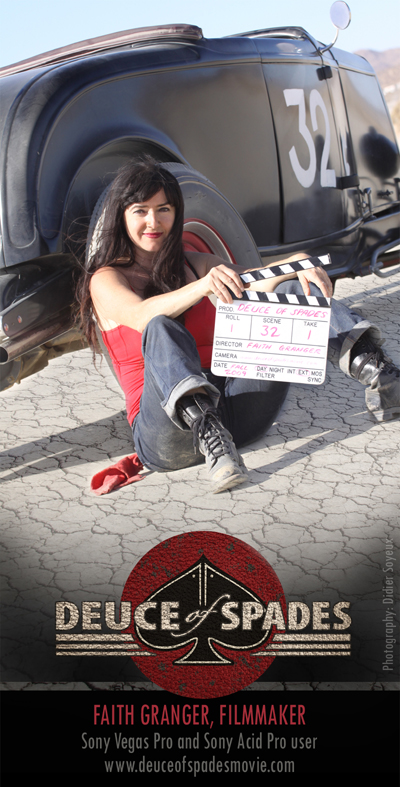 Remember a few blogs ago how freakin' frustrated I was with my recording studio and Cubase and how it was NOT working with East West... And I was about to jump off a bridge and GIVE UP? That's when it hit me. Why not look into ACID? ACID is to music what VEGAS is to film, and after looking at their online demo, I was excited: All the menus in ACID are identical to VEGAS. Surely it would take me no time to warm up to this new platform.
Surely it didn't

Within 3 days I was like a fish in water, and able to be creative again. And so it was that my hitting a wall with Cubase would turn out to be a blessing in disguise.
SONY CREATIVE SOFTWARE is now sponsoring me as a filmmaker and editor and will be providing me with a rather expensive projector to screen my film at future misc venues, such as car shows, museums, car clubs, community houses and anywhere else I darn please. The Sony projector is capable of projecting an image up to 600 inches diagonal, which means pretty much most smaller theaters. And with 7000 lumens and dual lamps, I'm gonna be stylin' .
Needless to say there is no way in hell I would have ever been able to afford to buy such device and that their help is HEAVEN SENT, giving me the freedom I so cherish and the independence I crave.
Giving me the TOOL I NEED to share DEUCE OF SPADES with the audience, no matter where I am.
And so it is that my EL MIRAGE screening under the stars is now made possible.
Another DEUCE OF SPADES miracle?
Ya betcha baby.
Thank you God

...
And thank you Sony Creative Software.